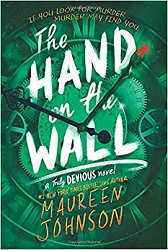 The Hand on the Wall
Review posted August 5, 2020.
Katherine Tegen Books (HarperCollins), 2020. 369 pages.
Review written March 17, 2020, from a library book
Starred Review
2020 Sonderbooks Stand-out
:
#4 General Teen Fiction
The Hand on the Wall is the third and final book in the Truly Devious mystery series, and ties everything up beautifully. Yes, you have to read these books in order. You will be rewarded with an exquisitely crafted series.
In this trilogy, each book gives you pieces of the mysteries in the past and in the present, and each book gives you parts of the solution. You get information about the past mystery in flashbacks as our hero, Stevie Bell, figures out clues. You also have at least one death in each volume. In this book, Stevie and the reader figure out what happened.
This book also has the added drama – perfect for a mystery – of a bunch of students blizzard-bound at the ever-so-interesting isolated Vermont campus created by the eccentric millionaire Albert Ellingham. A blizzard always makes a good backdrop for murder! Can Stevie figure out the solution before the snow melts and she has to go home?
I so appreciate all the atmosphere and nods to great detective fiction that Maureen Johnson slipped into this book. Both mysteries – past and present – have layers to them so that even stretched over three books, they didn't lag. And enough happened in each book to feel that it deserved to be a book and not just cram the whole thing together.
But the final volume, pulling everything together, was indeed the most satisfying. This is a mystery series with teens taking the starring roles, including the brilliant detective and the person getting a little too close to the truth for her own good. Mystery and danger both! And the fantasy of a school where you can study what you're good at – even if that talent is finding a murderer.