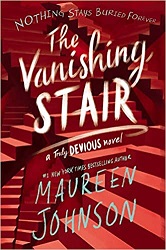 The Vanishing Stair
Review posted July 3, 2020.
Katherine Tegen Books (HarperCollins), 2019. 373 pages.
Review written March 5, 2020, from a library book
Starred Review
2020 Sonderbooks Stand-out
:
#6 General Teen Fiction
The Vanishing Stair is the second book in the Truly Devious trilogy. Yes, you need to read the books in order, because this is a mystery series, and clues are revealed along the way.
Stevie Bell was invited to Ellingham Academy to work on a decades-old mystery about the kidnapping of the wife and daughter of Albert Ellingham, the founder of the academy. In the first book, though, a present-day student dies, and another one disappears.
This book begins with Stevie back with her parents because of the death at Ellingham Academy. But, no surprise to the reader, she quickly gets back to the school, and more of the old and new mysteries unfold. In fact, this volume has Stevie making a major breakthrough about the old case – but we also have another death.
Fortunately, this time I'm reading with the book that comes next checked out and ready to go! I read the first book much too long ago, but anyone who starts the series now will not have the same problem. Check all three books out – you're in for a well-crafted mystery, with many different layers. On top of that, the characters are quirky, interesting, and fun to spend time with.
Stevie does make a breakthrough in the old case in this book, but there's still a lot to find out. These books finish at a satisfying place, but still make you eager to find out more.