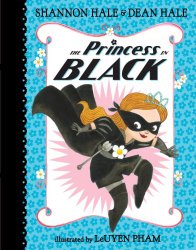 The Princess in Black
Review posted December 17, 2014.
Candlewick Press, 2014. 90 pages.
Starred Review.
2014 Sonderbooks Stand-out
: #2 Picture Books
Here's a brilliant book for children who love princesses – and superheroes. It's an easy-reading chapter book with fifteen short chapters and pictures on every spread.
Princess Magnolia is a princess who dresses in pink and does princess-y things. But she has a secret. She's currently having hot chocolate and scones with Duchess Wigtower, who visited unexpectedly and loves to uncover secrets.
But then her monster alarm goes off! Princess Magnolia excuses herself, hides her pink frilly dress in a broom closet, puts on her mask and cape, slides down a secret chute and high-jumps the castle walls as The Princess in Black!
I love the way her unicorn, Frimplepants, is also in disguise. When it's time to fight monsters, he's Blacky, the Princess in Black's faithful pony.
There's a hole in the ceiling of Monsterland. When a big blue monster smelled the delicious goats in the pasture outside the hole, he decided to come out. But he reckoned without the Princess in Black!
Twinkle, Twinkle, Little Smash! Sparkle Slam! Those are some of the ninja moves of the Princess in Black!
The monsters in this book are cuddly and foolish and not too scary, though much bigger than the Princess in Black. But they are no match for her ninja skills.
This book is completely delightful and so rewarding for beginning readers. Neither boys nor girls will be able to resist the adventure, the secrets, and the ninja moves.