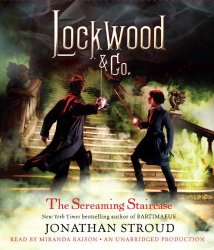 Lockwood & Co
The Screaming Staircase
Review posted September 4, 2015.
Listening Library, 2013. 10 hours on 8 compact discs.
2013 Cybils Winner: Speculative Fiction, Elementary and Middle Grades
2013 Sonderbooks Stand-out
: #1 Children's Fiction
Starred Review
Normally, I won't listen to a book I've already read. In the case of The Screaming Staircase, I'd already read it twice: Once when it came out, and once for the Cybils Award. (It won.) I also named it my favorite children's book read in 2013. (I don't allow rereads to count as Sonderbooks Stand-outs any more, so that way I won't be tempted to give it to this book again in 2015.) So you won't be surprised that I loved this audiobook (which our library finally purchased). Apparently, I don't get tired of this story at all!
I'll refer you to my original review, but point out a few things I noticed.
As a straight mystery (Who killed Annabelle Ward?), this book is wonderfully well-crafted. There are clues and red herrings as well as a life-endangering denouement accompanying some clever deductions from our heroes.
This book is scarier than I remembered it. The Red Room – with blood dripping down from the ceiling threatening to flood them (and they'll die if it touches them) is incredibly sinister, not to mention the Screaming Staircase, where long-ago monks were led to their deaths and today you can hear their screams in your head. So that's the only caveat when giving this book to children or suggesting it for family listening (It would be great!) – they have to be able to handle Scary.
As I suspected, though, the only thing better than reading this book is having it read to you with a British accent. The narrator is utterly wonderful! When I got to the part I used to read aloud at schools when booktalking last summer – I could recite the words along with the narrator, but they sounded so much better with a British accent! This narrator also captured the different voices with excellence.
As I mentioned in my first review, there's so much going on with this book. We've got ghosts, swordplay, a deadline which must be met to keep their business, banter between colleagues, an interesting alternate world with great detail as to the different types of ghosts, kids in charge (because only they can see ghosts), and our heroes setting out to show the world that they are excellent at what they do – without the supervision of adults.
If your kids are old enough to handle Scary, this would make phenomenal family listening, because I guarantee the adults will be as mesmerized as the kids. I certainly was. And this was a book I successfully recommended to several adult coworkers. I am having fun listening to the audio version of the first two books in the series in preparation for Book Three coming out soon. I can hardly wait!