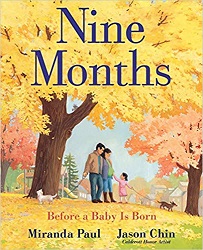 Nine Months
Before a Baby Is Born
Review posted July 14, 2019.
Neal Porter Books (Holiday House), 2019. 32 pages.
Starred Review
Review written May 10, 2019, from a library book
2019 Sonderbooks Stand-out
:
#1 Children's Nonfiction Picture Books
This book tells us, with a simple rhyming text, the progress of a little girl becoming a big sister – but the stunning part of the book comes from the actual-size pictures of the growing fetus inside the mother.
For most of the book, the growing fetus is on the left side of the spread and the expectant family on the other side, with the soon-to-be big sister obviously anticipating her new status. By the end, the newborn infant takes up the entire spread.
I didn't check until I'd finished reading who the illustrator is – and immediately thought, "Oh! No wonder those pictures are so amazing!" I find myself wanting to reach out and touch the newborn baby.
The text is very simple, with gentle rhymes. Here are a couple of examples. (On the left side, it tells which month we're in. There's a spread for each month.)
[Month Five]
Lips.
Flips.
Curve, dip, and groove.
She has a face.
She likes to move!
[Month Six]
Grasp.
Clasp.
Ears that can hear.
Sing as she listens.
Tell her you're near.
The text is simple – based on the pictures, this is designed for a preschooler becoming a big sister – but there are five pages in the back with more information for the curious.
It does begin with the fertilized egg and doesn't say one little bit about how the egg got that way. You're on your own if your child has questions! But that does keep the book about the new baby.
This is my new go-to book for kids about to become older siblings. And it's an immediate gift choice for my three-year-old niece and her big sister who are welcoming a new baby brother in a few more months.