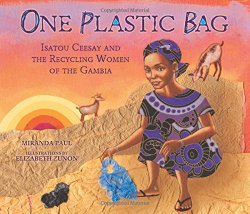 One Plastic Bag

Isatou Ceesay and the Recycling Women of Gambia
Review posted May 25, 2015.
Millbrook Press, Minneapolis, 2015. 36 pages.
In 2012, Isatou Ceesay won a World of Difference 100 Award from the International Alliance for Women for her work establishing the Njau Recycling and income Generating Group in her village in Gambia. This picture book tells her story in a way that children can understand – but which adults will also appreciate.
The book begins with Isatou as a child when a basket breaks. When a basket breaks, people could simply drop it and it would crumble and mix back with the dirt. However, then people in the village began using plastic bags. When you drop a plastic bag on the ground, it leads to a problem with trash.
Goats began to die from eating the plastic bags. There was a bad smell. Isatou and some other women gathered up plastic bags, washed them – and made plastic thread from them. Then they used this plastic thread to crochet purses. And selling the purses made money to buy a new goat – a goat that was not confronted with plastic trash it was tempted to eat.
The note at the back tells more about Isatou Ceesay's work. I like the way the story is told simply, with beautiful collage art, and then details are given at the end for adults. This is an inspiring story of a woman making the world a better place.