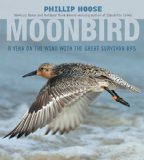 Moonbird
A Year on the Wind with the Great Survivor B95
Reviewed January 28, 2013.
Farrar, Straus, and Giroux, 2012. 160 pages.
Starred Review
2012 Sonderbooks Standout
: #9
Children's Nonfiction
Moonbird tells the story of a rufa red knot banded with the number B95 in the year 1995 who has been spotted many times since. These birds are some of the greatest distance travelers on earth, and B95 is the oldest known such bird.
This book goes into detail about what physiological changes and athletic feats go into B95's journey. The author makes the life of a little shorebird into an epic tale. He interviewed many scientists all interested in helping the red knots and other shorebirds continue to survive. Spinning their stories into the overall narrative keeps the book fascinating.
This book covers science, nature, the environment, and what you can do to help. An outstanding science book that will interest everyone from elementary school readers to adults. I doubt anyone can read this book without learning something, but probably a lot of somethings. And even harder would be to read this book without becoming interested in the plight of a little bird and its flock.