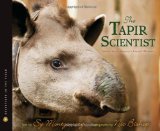 The Tapir Scientist
Saving South America's Largest Mammal

Review posted October 21, 2013.
Houghton Mifflin Books for Children, 2013. 80 pages.
The Tapir Scientist is another volume in the fabulous Scientists in the Field series. This series follows real scientists doing interesting work out in the real world.
The scientist featured in this book is Pati Medici of Brazil. She and her team are studying tapirs. In this book, they are in the Pantanal region, trying to put radio collars on wild tapirs. To do that, they must either trap the tapir or shoot it with a tranquilizer dart.
They also get blood samples and tick samples when they trap the tapirs. And, of course, they track the ones that already have a collar.
This book follows the routine of the team on their mission, explaining the day to day process when the author and photographer joined the expedition. As in all the books in this series, plenty of lavish photographs illustrate the story. In this book, many of the photographs are of other exotic wildlife in the area, but I'm not going to begrudge any animal photography done by Nic Bishop, even if it's only loosely related to tapirs.
I like the way this book tells how it went -- with setbacks as well as triumphs. There were times when the dart didn't work and times when they captured a tapir that already had a collar.
This series shows that the life of a scientist can be adventurous and exciting. And you'll find out about tapirs while you're at it.