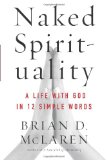 Naked Spirituality
A Life with God in 12 Simple Words
Review posted 02/20/2012.
HarperOne, 2011. 280 pages.
Starred Review
Sonderbooks Stand-out 2011
: #3
Other Nonfiction
I would love to go through this book with a small group Bible study. The subtitle tells us what the book is about. Brian McLaren uses 12 simple words to focus on what's most important in our life with God. Though coming from a Christian perspective, he tries to transcend religion and talk about what is important in a relationship with God.
He talks about four seasons in our spiritual lives, seasons that we cycle through more than once. For each season, he chooses three words that represent our relationship with God. I think you'll get an idea of the content of his message if I present the four seasons and the words he looks at for each season, with the practices they represent:
Simplicity: The Springlike Season of Spiritual Awakening
Here: The practice of invocation and presentation, awakening to the presence of God
Thanks: The practice of gratitude and appreciation, awakening to the goodness of God
O: The practice of worship and awe, awakening to the beauty and joy of God
Complexity: The Summerlike Season of Spiritual Strengthening
Sorry: The practice of self-examination and confession, strengthening through failure
Help: The practice of expansion and petition, strengthening through weakness
Please: The practice of compassion and intercession, strengthening through empathy
Perplexity: The Autumnlike Season of Spiritual Surviving
When: The practice of aspiration, exasperation, and desperation, surviving through delay
No: The practice of rage and refusal, surviving through disillusionment
Why: The practice of lament and agony, surviving through abandonment
Harmony: The Winterlike Season of Spiritual Deepening
Behold: The practice of meditation and wonder, deepening by seeing
Yes: The practice of consecration and surrender, deepening by joining
[. . . ]: The practice of contemplation and rest, deepening by being with
Here are some words from the Preface:
This is a book about getting naked -- not physically, but spiritually. It's about stripping away the symbols and status of public religion -- the Sunday-dress version people often call 'organized religion.' And it's about attending to the well-being of the soul clothed only in naked human skin. As a result, it must be a vulnerable book, tender in tone, gentle in touch. You won't find much in the way of aggressive arguments here, but rather shy experience daring to step into the light. It's an honest book, and I hope a practical one too, perhaps with some awkward spiritual parallels to what they used to call a "marital manual."
You won't need to agree with all the planks of my theological platform. I am a Christian, and all I write flows from my experience in that rich tradition, but you may be of another tradition entirely or of no known tradition at all. Instead of seeking theological agreement, this book invites you to experiment with the naked experience of God that provides the raw material from which all worthwhile theology derives.
Here's what he says about developing the spiritual practices:
In the coming chapters, I would like to introduce you to twelve spiritual practices that have passed the simple, doable, and durable test for me. They are part of our ancient traditions, and they can provide twenty-first people like you and me with a basic curriculum for our spiritual novitiate. You can think of them as twelve stretches for runners, twelve moves in martial arts, twelve basic positions in yoga, or twelve warm-up exercises a musician might employ. You can do them in groups, and I hope you will, but you can begin on your own, in private, today. Like learning your first few chords on a guitar, you'll find it amazingly easy to begin to play with these practices. But like expanding on those basic chords in order to become a guitar virtuoso, you'll also find these twelve practices endlessly engaging and challenging.
This is a book I'm going to want to read again, and I'd love to go through with a small group. Because it's about practices -- about living out your life with God.