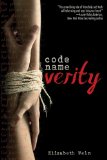 Code Name Verity
Reviewed June 10, 2012.
Hyperion, New York, 2012. 343 pages.
Starred Review
2012 Boston Globe-Horn Book Honor Book
2012 Sonderbooks Stand-out
: #1
Teen Fiction
Wow. Wow. Wow. Wow. For me, this is the Year of Escalating Greatness. For the Newbery: First I read Wonder, by R. J. Palacio, and hoped it would win. Then I read The One and Only Ivan, by Katherine Applegate, and hoped it would win. Then I read Summer of the Gypsy Moths, by Sara Pennypacker, and hoped it would win. Recently, I read Palace of Stone, by Shannon Hale, and now I'm hoping it will win.
For the Printz Award, it hasn't been so drawn out. I read The Fault in Our Stars, by John Green, and was sure I'd found the book I want to win next year's award. But now I've read Code Name Verity. I simply can't imagine another book surpassing this one this year.
(Mind you, I want all my past favorites to win Honor, and won't even be too upset if they end up taking the prize. But wow, this book is good!)
I already was a big fan of Elizabeth Wein. I've read all of her Aksum books, set in old Africa, and knew that her writing is something special. But I wondered about a book set during World War II. That seemed something altogether different.
And this book is different. There's still the flavor of her wonderful storytelling ability, but the story, set in France and England during World War II, is nothing like ancient Africa. But every single bit as compelling.
Here's how the book begins:
I AM A COWARD.
I wanted to be heroic and I pretended I was. I have always been good at pretending. I spent the first twelve years of my life playing at the Battle of Stirling Bridge with my five big brothers -- and even though I am a girl, they let me be William Wallace, who is supposed to be one of our ancestors, because I did the most rousing battle speeches. God, I tried hard last week. My God, I tried. But now I know I am a coward. After the ridiculous deal I made with SS-Hauptsturmführer von Linden, I know I am a coward. And I'm going to give you anything you ask, everything I can remember. Absolutely Every Last Detail.
Here is the deal we made. I'm putting it down to keep it straight in my own mind. "Let's try this," the Hauptsturmführer said to me. "How could you be bribed?" And I said I wanted my clothes back.
It seems petty, now. I am sure he was expecting my answer to be something defiant -- "Give me Freedom" or "Victory" -- or something generous, like "Stop toying with that wretched French Resistance laddie and give him a dignified and merciful death." Or at least something more directly connected to my present circumstance, like "Please let me go to sleep" or "Feed me" or "Get rid of this sodding iron rail you have kept tied against my spine for the past three days." But I was prepared to go sleepless and starving and upright for a good while yet if only I didn't have to do it in my underwear -- rather foul and damp at times, and SO EMBARRASSING. The warmth and dignity of my flannel skirt and woolly sweater are worth far more to me now than patriotism or integrity.
Queenie, which is what she calls herself in the narrative, draws things out. She tells the story of how she entered the war effort, but she tells it from the perspective of her best friend, Maddie Brodatt. Maddie is the pilot who crash landed the plane that brought Queenie into France after Queenie parachuted out of it. They have shown Queenie pictures of the burned plane and ruined cockpit.
Now, the reader has to wonder how much truth Queenie is giving the Nazis in this narrative, being read immediately by them. But the reader never doubts her firm and unquenching affection for Maddie, the girl who loved to fly. Maddie gets more and more opportunities in a men's world, culminating in the chance to fly Queenie into France. Too bad it ended in a crash and a capture.
I don't want to say one bit more about the book's plot except that I am reminded of something Megan Whalen Turner said when she was speaking at the Horn Book-Simmons Colloquium. She said that she feels she has failed if her readers read her books only once.
With Code Name Verity I honestly caught something in the section I just quoted to you that had gone right by me the first time around. I am absolutely going to be rereading this book very soon to see the many, many things that I will look at differently the second time around.
Wow! All right, already! Just read it!