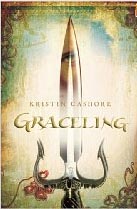 Graceling
Reviewed July 11, 2009.
Harcourt, Orlando, 2008. 471 pages.
Starred Review
Sonderbooks Stand-out 2009
: #5 Fantasy Teen Fiction
Katsa has a Grace. Like every child whose eyes settle into two different colors, Katsa has an extraordinary gift, and was sent to the court of the king, her uncle, until it became clear what her Grace would be and if it would be useful to him.
When she was only eight years old, it became clear that her Grace was killing. She can fight and defeat anyone, with weapons or not. The king did indeed find this gift useful, and from the time that she was ten, he ordered Katsa to do his bullying for him, to punish anyone who displeased him.
Now that she is eighteen, she is finding ways to rebel, ways to use her Grace to help people, to fight injustice instead of causing it. On one mission, she encounters a mystery. Why would anyone want to kidnap the kind old father of the king of Lienid?
Then she meets the old man's grandson, a prince of Lienid, who is also apparently Graced with fighting, and the first real challenge she's ever encountered. They begin practicing together, and Katsa is horrified to find herself beginning to trust this man. They decide to tackle the mystery together.
This book has a great story of adventure against impossible odds, with a tremendously likable heroine who can defeat almost anyone or anything. Woven into the story is Katsa's struggle with who she is. Is she a killing machine for a bully of a king to use for his purposes, or can she choose to be something more?
I found the romance particularly wonderful, as we watch Katsa wrestling with her feelings and her habits of not trusting anyone. I thought that part especially well-written and delightful to read.
Parents, this book isn't for young teens. Katsa is not interested in marriage, and she and the prince decide to be lovers. Their encounters are described tastefully, even beautifully, but they are described. You might want to discuss your opinion of Katsa's choice not to marry. To me, it seems consistent with her character and her difficulties with trust. But on the other hand, it's clear that either one of the lovers would be completely devastated if the other one were to take advantage of the "freedom" they've been granted. I like the way Kristin Cashore shows us Katsa talking about being free to leave her lover, but then having tremendous difficulty actually doing it, even when their lives depend on it.
All in all, I thought the romance, with all its ambivalence and wildly fluctuating new feelings for Katsa, was the most beautifully written part of this magnificent book. I'm amazed that it's a first novel, and am now among those eagerly looking forward to the sequel, Fire, which comes out in October 2009.