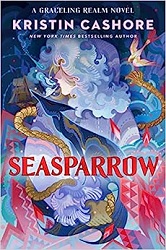 Seasparrow
Review posted July 11, 2023
Dutton Books, 2022. 602 pages.
Review written February 6, 2023, from a library book.
Starred Review
Seasparrow is the fifth book in the fantasy series that began with Graceling. And yes, you'll want to read the other books in the series before you tackle this one, because many themes and plot points and characters from the previous books show up in this one. There's even a cast of characters at the back of the book to keep them straight.
The name Seasparrow itself refers to the main character of the book, Hava, who acquires the nickname Hapbva, which means "Seasparrow" in the native language of the captain of the Monsea. The book starts out on the ship. The Monsean delegation is heading home from Winterkeep after their adventures in the book Winterkeep. Hava has healed, and now she is secretly translating formulas for a bomb that she smuggled out of Winterkeep.
The book includes the voyage, shipwreck, difficult survival, and homecoming, all from Hava's perspective. Hava is Queen Bitterblue's spy, and she has a grace where she can change what people see when they look at her. On the ship her main task is to translate the journals with the formulas. Or so she thinks until she discovers someone hiding something on the ship.
The plot of this book is very slow-moving, but I still found myself compelled to read on. Kristin Cashore's writing is immersive and pulls me into her worlds.
Yes, there's romance in this book, but in this case, it's refreshingly slow-moving. I won't say slow burn, because there's not even a lot of spark. But there is slow-growing love, and it fits Hava's personality and what she's been through.
Fans of Kristin Cashore's books will be delighted to have another chance to plunge into her intricately crafted world. There are more mind-reading blue foxes in this book, more gracelings, more monsters, more political intrigue, and more realistic depictions of people coping and healing after trauma. Oh, and there's a nice plot twist toward the end that I didn't see coming at all, but that fit perfectly.