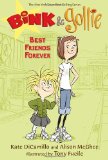 Bink and Gollie
Best Friends Forever
Review posted August 23, 2013.
Candlewick Press, 2013. 84 pages.
Starred Review
Hooray! Another book about two unlikely friends, Bink (short and wild) and Gollie (tall and organized).
In this installment, the two friends' adventures get even more bizarre than before. Believable? I'm not so sure. Fun? Absolutely!
There are again three stories. In "Empire of Enchantment," Gollie discovers proof that she has royal blood. It goes to her head. In "Why Should You Be Shorter Than Your Friends?" Bink orders an Acme Stretch-o-Matic with rather disastrous results. In "Kudos, Bink and Gollie," the two friends decide to collect something so they can get their picture in Flicker's Arcana of the Extraordinary. But what should they collect?
As always, the varied and exuberant illustrations make this book so much more than your typical early chapter book. Why should an early chapter book be boring? Tony Fucile consistently mixes things up with close-ups and faraway or slanted shots, with varied expressions that reveal so much, and even with varied shapes to the panels.
Much as I love Frog and Toad, this book does not go for universal friendship situations that every child will recognize. No, these authors celebrate the particular! Here are two unique individuals unlike anyone else. And the result will be universally loved.