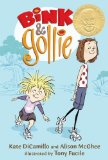 Bink and Gollie
Review posted March 19, 2011.
Candlewick Press, 2010. 82 pages.
2011 Geisel Award Winner
Starred Review
In the tradition of Frog and Toad, George and Martha, and Elephant and Piggie, here's another easy-to-read book about two friends who are very different, but who have a great time together.
This one's a beginning chapter book, with 82 pages, rather than a traditional easy reader format. But much of the story is told in the exuberant pictures and there are not a lot of words on each page. Readers will feel they have accomplished something when they finish this book with three chapters.
Bink is short and a little wild, with yellow hair going in every direction. Gollie is tall and calm, and likes things just so. You can see all that from the picture of them rollerskating on the front cover.
The first chapter brings a conflict in their personality types:
"Bink," said Gollie, "the brightness of those socks pains me. I beg you not to purchase them."
"I can't wait to put them on," said Bink.
After some conflict over the socks, the two friends come up with a compromise bonanza.
The book goes on in the classic tradition of friendship tales -- with simple situations that test the friendship, but allow the friendship to come out strong and shining. The illustrations in this book tell much of the story and convey much of the emotion behind the words. And it's fun to read one of these tales where we see cordless phones and a laptop computer in the illustrations. The book is classic -- but modern.
This week I had a couple different people ask about chapter books that are not too difficult, but for a child who wants something beyond the traditional easy reader. Bink and Gollie will fill the bill. There are lots of big words: "outrageous socks," "marvelous companion," "remarkable fish," and "extraordinary accomplishment." But there is not a lot of text on each page, and many of the big words are repeated throughout the book. Children who read it themselves will realize that they have achieved an extraordinary accomplishment.