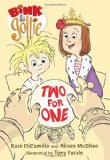 Bink and Gollie
Two for One
Review posted January 18, 2013.
Candlewick Press, 2012. 80 pages.
Starred Review
2012 Sonderbooks Stand-out
: #6
Picture Books
This follow-up to Bink and Gollie is as irresistible as the first. Bink is short and wild. Gollie is tall and sedate. They spend a day together at the fair.
In many ways this book is about failure. Failure at Whack-a-Duck and failure at the Talent Show. But it's not treated as failure. Not at all. After both events, the girls find happy compensation.
The pictures are the crowning glory of this delightful book. Yes, the words are wonderful, but the pictures bring it to life. Bink's efforts to throw the ball and Whack a Duck take up an entire dramatic two-page spread. Gollie's stage fright is communicated without a word as the scene widens to show just how many people are listening to her and the frozen look on her face.
There are not very many words on each page, but there is lots and lots of story on each page. Beginning readers will feel they've accomplished something, and skilled readers won't be bored for a second.
The two girls finish up the day in a fortune teller's tent.
"I see two friends," said Madame Prunely.
"Is one of those friends tall?" said Gollie.
"Yes," said Madame Prunely.
"And is the other friend short?" said Bink.
"Yes," said Madame Prunely.
"Are they together?" said Gollie.
"Without question," said Madame Prunely.
"That's all the future I need to know," said Bink.
"Come on, Gollie!"
An absolute delight for beginning readers.